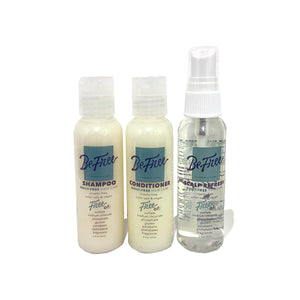 *You cannot use promo codes on this product* Travel Size Total Package combo is not returnable*
THE ORIGINAL TRIFECTA IN TRAVEL SIZES! 2oz of your favorite Shampoo, Conditioner and Scalp Refresh Spray. Small enough to pack with you and take wherever your adventures may take you!
Be Free Shampoo is formulated to nourish and moisturize your scalp and hair. It gently cleanses, protects your color, and invigorates your hair for everyday use. It also actively hydrates and restores strength to your strands, leaving your hair healthy, shiny, and fierce.
Be Free Conditioner restores, revives, and reignites shine for all hair types. It gives your hair the love it needs and deserves. It nurtures dry & damaged hair and protects against the dreaded frizz.
Be Free Scalp Refresh detoxes your scalp and encourages healthy hair growth! It doesn't mess around; it goes directly to the source and soaks into the hair follicle, where you need it most.
This specially-formulated hair recipe, made from botanicals, vitamins and nutrients, stops the production of DHT, all while smothering your hair in much needed nutrients and stimulating circulation. Antioxidants help prevent free radical based deterioration of the existing hair and inflammation of the scalp.
You can see the results! After regular use, our customers have experienced healthier and thicker looking hair. Who doesn't want that?