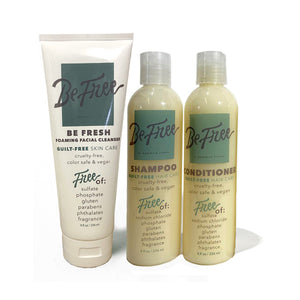 FACE WASH + SHAMPOO + CONDITIONER
Be Free Foaming Facial Cleanser 8oz  is just what you need to get your skin clean and glowing. Wash away the day and any makeup with this non-drying, all-in-one cleanser.
Be Free Shampoo 8oz is formulated to nourish and moisturize your scalp and hair. It gently cleanses, protects your color, and invigorates your hair for everyday use. It also actively hydrates and restores strength to your strands, leaving your hair healthy, shiny, and fierce.
Be Free Conditioner 8oz restores, revives, and reignites shine for all hair types. It gives your hair the love it needs and deserves. It nurtures dry & damaged hair and protects against the dreaded frizz.
All products are 8 oz.
Free of sulfate
Free of phosphate
Free of gluten
Free of parabens
Free of phthalates 
Free of fragrance
Color safe
Cruelty-free
Vegan